ONE WALLBOX WITH TWO CHARGING POINTS.
THIS IS HOW UNCOMPLICATED CHARGING WORKS IN EVERYDAY LIFE.
TWO TYPE-2-CHARGING PLUGS
For a second car no further box is necessary. This saves space and costs! The connections comply with the standard IEC 62196-2. ALPHA's connections are protected against dirt, which saves separate protective caps.
TWO LONG CHARGING CABLES
The wallbox ALPHA is equipped with two 5.5 m each long cables. In addition with the positioning of the box between two parking spaces it gives you enormous flexibility. Your on-board cable remains stowed in the vehicle clean and dry.
INTELLIGENT LOAD MANAGEMENT
The ALPHA is prepared to any local situation and might be adjusted from 2.3 to 22 kW loading power. The load management makes it possible to divide the charging power in the most sensible way.
MAXIMUM SAFETY
The personal safety switches-specially developed for e-mobilityoffer the best protection for the user and also save money during installation. The integrated "Thunderstorm protection" prevents false alarms.
TEMPERATURE MANAGEMENT
The integrated temperature monitoring protects the complete electronics against overheating and automatically reduces the output if necessary. This guarantees a long service life.
EASY INSTALLATION AND MAINTENANCE
Protected and accessible at the same time! The electronics are equipped with an access key protection against external intervention but can be easily opened by the owner if necessary.
DOUBLE POWER – SINGLE COST
Two charging points with just one supply line. PRACHT ALPHA is easy to install, saves a lot of time and therefore money!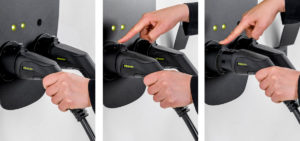 DURABLE AND FUTURE-PROOF
3 year PRACHT warranty without ifs and buts! High quality and durable materials guarantee a long service life. Like PRACHT has been known for decades.
MADE IN GERMANY
We focus on highest quality and are convinced of the incomparable strength of our domestic location. And that in all areas, from development to production.
ACCESS RESTRICTIONS
Not accessible for everyone! With optional RFID module the charging station is well protected and easily activated when required.